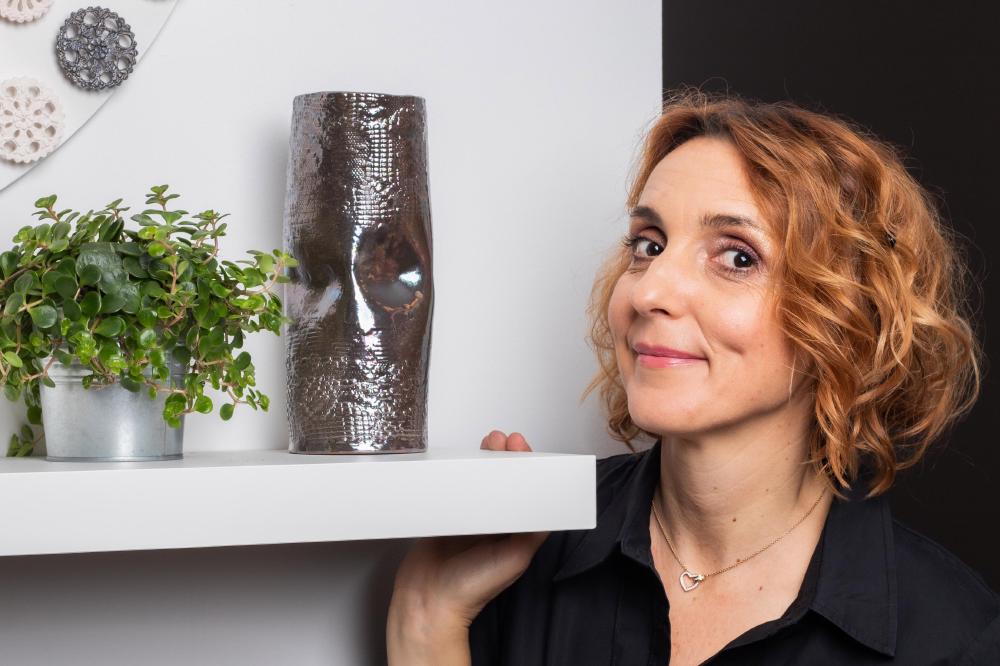 Nikolina Rodić Grgac
Nikolina Rodić Grgac started her artistic journey, without realizing that at the time, while working with textile materials in the fashion industry. From tactile textile, Nikolina moved to digital design and worked on mobile and web applications.
Leaving transient worlds of fashion and mobile applications, in 2017 she graduated from the "Public open University Zagreb, Ceramics, glass & porcelain art" and started experimenting with clay and porcelain clay combining it with other materials.
Nikolina finds her main source of inspiration in nature and lace capturing its fragility in eternal clay. She is led by the thought "The world is in the eyes of the observer", whatever she creates, it becomes reality only when someone looks at it.
The second source of inspiration Nikolina finds in human relationships and people interacting with each other. Those interactions are represented through decorated faces silhouettes that depict thoughts as a starting point of communication.
She had independent exhibition in Czech Republic and has participated in many group exhibitions, some of them being exhibition in Castellamonte's Mostra della Ceramica in Italy 2019. and 2021., Ex Terra Krško in Slovenian 2019. and 2020., XV Bienale Internationale Aveiro 2021, Aveiro, Portugal and many group exhibitions in Zagreb and Varaždin in Croatia.
Nikolina creates installations and sculptures that are usually wall or table mounted. She is a member of Croatian Association of Artists of Applied Arts (ULUPUH). Lives and creates in Zagreb, Croatia.
Artist statement
The works celebrates freedom of movement - physical and mental. Circular movement is perfect, unchanging, without a beginning, without an end and as such symbolizes the time in the space. The lace, a traditional motive, tells us a unique story about our rich cultural heritage steeped with the past, the present and the future. It's really thin threads connect the best of each moment in our lives and turns them into a timeless space that I try to catch and preserve by imprinting it in an eternal clay.
Nikolina Rodić Grgac
e-mail: nikolina@artbynikolina.com
mob: +385 91 202 4390